VITA'
Annoucement: Retired - April 7th 2012
Dr. Mitchell B. Barlow, ND-Retired
Traditional Naturopathy
Complimentary and Alternative Medicine
Preventive Care Practice:
Certified Health Educator (Home Remedies)
Registered Naturopath: ND Diploma (Traditional Naturopathy)
Specialty: Fitness Therapy
Certified: Vegetarian Foods Instructor
Certified: Medical Missionary Work (Hydrotherapy & Vegetarian Nutrition Lecturer)
University: Loma Linda University School of Health
"Philosophy of Health"

Professional School:
Institute of Alternative Medicine, Philosophy, and Research-
Donovan College of Naturopathy

Professional organizations: CNRA, CMDA, and ISSA

Medico: Integrative Medicine/and Biopsychosocial Medical Model

Family: Single, Yet-to-Marry

Interests: Nature, Family Functions, Parliamentarianism


DISCLAIMER: I do not diagnose, I do not precribe, I do not make claims, advertise, nor hold myself as a licensed expert in naturopathic medicine. I am a Registered Naturopath-a traditional Naturopathic Doctor operating as a preventive care practitioner - a certified health educator, community lecturer on simple home remedies such as; hydrotherapy and vegetarian nutrition, Also, I conduct vegetarian cuisine demonstrations. My specialty work is fitness therapy and fitness/lifestyle coaching within the auspicious of a charitable faith-based ministry homebased in Las Vegas, NV.
COME JOIN US!
COURTESY NOTICE: After 35 years in the health field (1970-2012), as of April 7th, 2012 Dr. Barlow wishes to announce that he will be sending email notifications all his former customers, clients, patients, family, freinds, etc regarding his retirement. Dr. Barlow will be formally 'retiring' from his 'active' naturopathic practice as of this date. No formal referrals will be taken from primary care practitions after April 7th, 2012. All current therapies will be concluded according to ethical treatment protocols. The ongoing health educational presentations and appointments for future Church based 12 step recovery groups may be made available as scheduled. So, please visit the website here for further developments. Thank you for your interest and support throughout the years.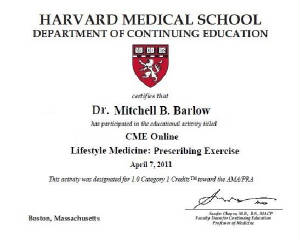 Click here for visiting AllExperts.Com